İşCep and 

isbank.com.tr

 are both products of Türkiye İş Bankası, one of the leading and most-used banks in Turkey with over 10 million users worldwide.
Designing a 10-second banking concept for 10 million users with 10 million different user experiences.

•  UI Designer (Myself)
•  UX Designer
USED TOOLS & WORKING PLATFORMS

•  Sketch, Adobe After Effects, Adobe Premiere Pro
•  iOS and Responsive Web
Research


In order to come up with innovative ideas for a new banking experience, I have worked with our UX designer and did a research about FinTech trends like BankingTech and WealthTech.



Pain Points


•  Old look & feel of the UI, doesn't reflect today's technology
•  Users' focus gets shifted towards other apps easily
•  Some user flows take sheer amount and users leave in the middle of sessions
•  Designing a new concept without reducing a set of 380 actions on the mobile app



Feature Ideas


•  Onboarding flow by rating to learn user patterns and use that data to feed into AI for smart suggestions
•  Leverage AI to analyze user patterns to predict their actions before starting the app
•  Personalized main dashboard experience with smart suggestions and actions
•  Using user's significant locations and CarPlay integration to suggest topping up their highway toll card (OGS) in a smart way
•  Predicting and presenting relevant login screens (retail or commercial accounts) to the user, according to their usage habits during the day with date, location and usage patterns
•  Directing users with relevant predictions and smart budget planning about sustaining and maintaining their life and helping them invest in their future
Concept Design & Prototyping


Designed the concepts according to four different personas and generated prototypes for the stakeholder presentation in order to get input for our concept and ideas. I have designed a reusable design system for the concepts and later on, similar components were used in the new İşCep mobile application.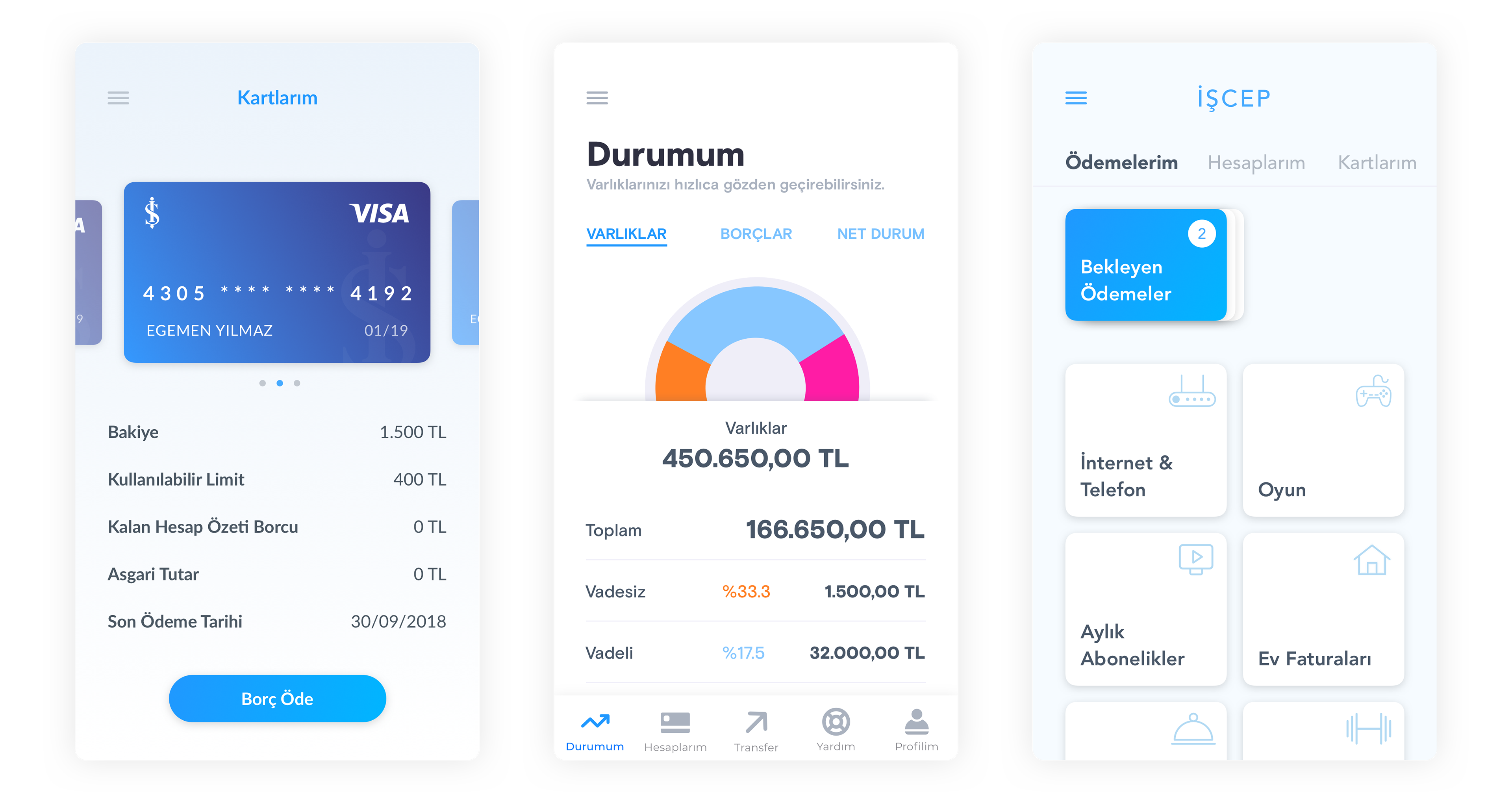 •  The concept design process had taken about a month to complete to meet our presentation deadline. The stakeholders were pleased about almost every feature concept we had came up for them.
•  Designing new concepts and features for a corporate bank and being appreciated by the company itself have given me a great pleasure.
•  Very happy to have worked for such a teaching concept design project, it gave me a great know-how of mobile and web applications design for banking.